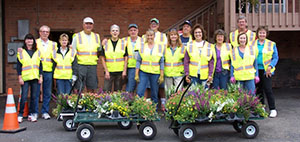 Arroyo Grande in Bloom is a non-profit volunteer organization dedicated to the beautification of Arroyo Grande. We plant flowers and trees, we do litter and brush removal, we maintain our natural resources and so much more. Our projects are tailored towards all ages, abilities and talents and we encourage all members of our community to get involved.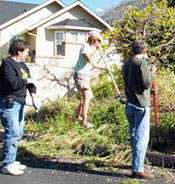 Our community efforts include:
• Planting & maintaining floral displays throughout the city.
• Landscaping and landscape design in public areas.
• Urban Forestry programs for our city streets, parks and schools.
• Turf & Groundcover maintenance.
• Tidiness & trash collections efforts.
• Environmental Resources management.
• Local Heritage recognition and development.
• Community Involvement.



Thanks to the efforts of our community members and the exceptional support of our city government & staff, Arroyo Grande in Bloom has received numerous awards and high acclaim for its beautification efforts. We plant pride in our community by helping to provide a beautiful, safe and enjoyable city.


Arroyo Grande In Bloom is also a participating member of the America in Bloom beautification program and National Competition.
Each spring, judges from America in Bloom evaluate participating cities in six beautification categories. This competition is held between cities throughout the United States and encourages competitive spirit while also offering constructive suggestions for future civic improvement.
You too can plant pride in our community. Get Involved! Arroyo Grande in Bloom is always interested in welcoming new volunteers to help in our quest of making our community better for all of our residents.
Please visit the other pages in this site to discover more about Arroyo Grande In Bloom and how you can help us achieve our goals. Also visit us on facebook to learn about our current projects.
Shop on Amazon.com and Arroyo Grande in Bloom will recieve a portion of your purchase price!
Just use this link (http://smile.amazon.com/ch/27-3797711) every time you visit Amazon.com. It costs you nothing but it helps AGIB raise funds for our projects.